Maharishi's Early Years of Teaching: 1965 – 1975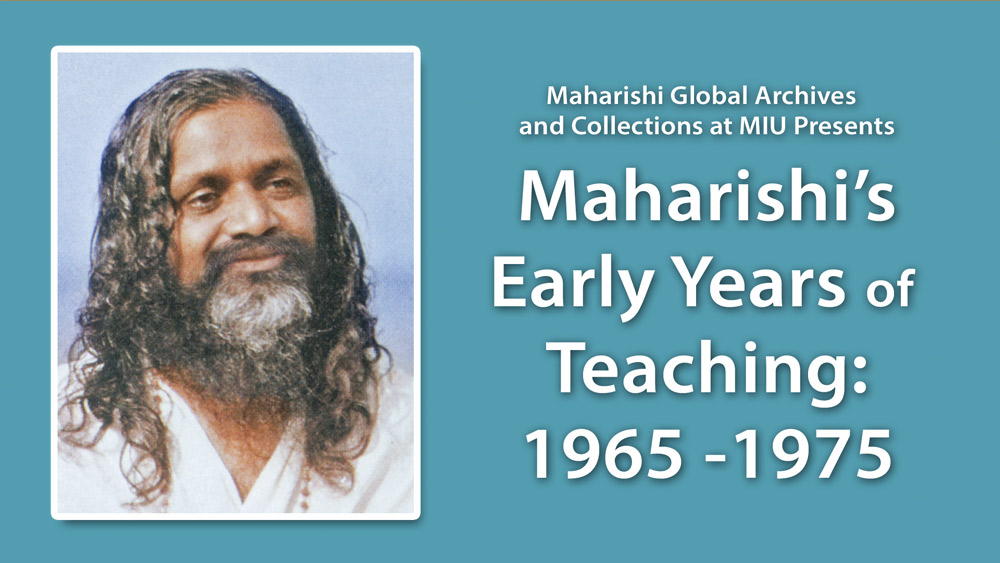 "Best MIU Continuing Education course ever! A timeless course"
—EM (Review of
Maharishi's First Years of Teaching: 1954-1964
)
Course Dates & Times: Monday, January 25, 2021 – February 25, 2021. (Monday and Thursday Evenings – 10 Sessions)
8:00 – 9:15 pm US Central Time.
This is 9:00 pm ET | 8:00 pm CT | 7:00 pm MT | 6:00 pm PT.
Course Location: Live on Zoom (and recorded to view at your convenience)
Free Talk: Monday, January 25, 2021. View the livestream here.
Course Leader: Dr. John Boncheff
Prerequisites: This course is open to all Meditators, Sidhas, and TM Teachers. Maharishi's First Years of Teaching: 1954 – 64 is not a prerequisite for this course.
Course Fee: $75 special pricing during this coronavirus time.
Sign Up Now! Already signed up? Click here for course webpage.
Course Description
Dr. John Boncheff presents this exciting new course which explores Maharishi's journeys beginning with the year 1965 and continuing until Maharishi proclaims the Dawn of the Age of Enlightenment on January 12, 1975.
The course includes the following:
Rare talks by Maharishi on enlightenment, higher states of consciousness, and world peace.
Many pamphlets and news articles presented for the first time.
Maharishi's trips to South America and to Iran in 1967, covered in his own words.
Maharishi's interactions with many celebrities, including the Beatles, including several rare talks in which Maharishi reviews these events. Rare footage and news articles describing these events will also be presented.
Maharishi talks about the beginning of scientific research on TM.
Maharishi talks about the unique structure of the Science of Creative Intelligence.
The Teacher Training Courses from 1966 to 1970 in Rishikesh, as well as the courses in Estes Park, Mallorca, Fiuggi, and La Antilla.
Several talks by Maharishi in which he describes sudden insights that cause him to change the direction of his movement in 1971 and 1974.
An examination of how Maharishi gradually unfolded his seven states of consciousness, including a sequential unfolding of Unity Consciousness over a three-year period.
Faculty
---
Dr. John Boncheff, PhD
Dr. Boncheff is a longtime teacher in Maharishi's organization and has taught TM to over 2,500 people. He was also awarded two PhDs in Maharishi Vedic Science directly from Maharishi. The first was in Nyaya and the second was in Jyotish.
Currently Dr. Boncheff works as the video archivist for the Maharishi Foundation and is also the Co-Director of the Maharishi Global Archives and Collections at MIU, where he is choosing the most inspiring and relevant talks and publications about Maharishi's early years of teaching from its newly-acquired collections containing over 2,000 talks by Maharishi and 20,000 documents and records.
---
Reviews of Maharishi's First Years of Teaching: 1954 to 1964
This course contains many gems of insight on Maharishi, SRM, the Gita, and sequential unfoldment of the TM Movement. Even more than that, it gave us Maharishi. Many of us weren't around in those early years, and this course put us there with him during the early events as if we were living them along with him. What a gift! —MN
Best MIU Continuing Education course ever! A timeless course. —EM
Very blissful! Watching Maharishi's journey to bless the world unfold from the small seed of desire to travel down from the Himalayas to the expansion of the world wide movement is very moving. —LG
A soothing cosmic bath of Maharishi Darshan. —DO
After enjoying and incorporating the full Yoga course with Dr. Morehead into my life, I received my second advanced course this weekend in Florida. I was drawn to this course, not expecting to have a real life and soul changing experience. I've been meditating for 25 years and just last January at a retreat in Florida my entire experience catapulted into bliss and happiness for the first time. This course was not only lovely because seeing these private clips of Maharishi, Dr. Bonchef is an outstanding story teller and he wove the commentary and videos brilliantly. —DS
Maharishi's First Years of Teaching 1955-1964, by Dr. John Boncheff: I viewed all (11) lessons over a 3-week period. I am in awe of Dr. Boncheff's deep understanding of the lives of Guru Dev and Maharishi. Thank you to all who contributed artifacts and supported the creation of this course. —EL
I have been a meditator for 47 years and while not always regular, I am getting much more serious about my meditation practice now. I loved this course and learned so much from these teachings. —CB
Blissful listening. So uplifting. —LS
Just wonderful. Absolutely wonderful. Content and presentation as well. I am so happy I took this course and so lucky to have it free (as I am senior full-time TM teacher). —AC
FAQs
Are there any prerequisites to take this course?
This course is open to all TM Meditators, and all TM Teachers and all those advanced TM Meditators who have graduated from the TM-Sidhi course. You do not need to have taken Maharishi's First Years of Teaching to take this course.
How long are the videos available to view?
Videos are available to view for at least one year after signing up or after they are posted, whichever is longer.
Where can I contact the organizer of this event with any questions?
Please email the Office of Continuing Education at ce@miu.edu. Or you can call 641-919-0045 during office hours: Monday – Friday 10:00 am – noon and 1:00 – 4:00 pm (Central Time).
What is the refund policy?
We offer full refunds to anyone who requests them before starting the third class.
Where are the Maharishi Global Archives and Collections located?
Currently they are located downstairs in the MIU Library. And the website is https://maharishi.miu.edu.
How can I contact the Maharishi Global Archives and Collections?
Please email archives@miu.edu.